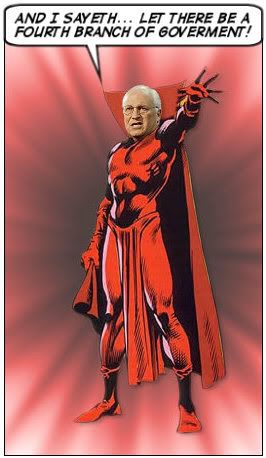 Jess Wundrun
wants to have contest! Now that Vice President Dick Cheney has decided that his office is not part of the the executive branch of the United States government, he has in essence created a fourth branch of government.
So in the words of
Jess
, the rules of the contest are this:
"Name the new fourth branch of government (location-undisclosed) that exists in the mind of Darth Cheney. There's executive, legislative, judicial and.....asshatistial? skullduggerandoodle?"
So there you have it!
Wait, wait...
"Skullduggerandoodle?!?!"