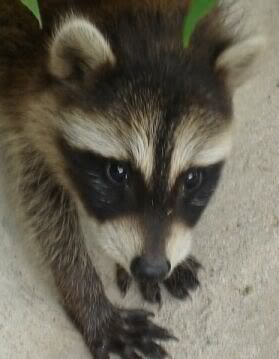 The strangest thing happened to me yesterday morning. I heard this strange noise like a bird arguing with itself, and it sounded like it was coming from right outside the wall. I went outside to look, and found a baby raccoon hanging by it's hind leg from a space between two boards on the second floor of my house.

It looked like the baby raccoon had been trying to climb straight down the wall! I have no idea what really happened, but it was very comedic and deeply pathetic at the same time. The whole of the little guy's weight was being borne by his right ankle. There was nowhere for him to hold on to anything, so he just held his front paws out in the air in front of him. I got the feeling he had been there for quite a while because he looked exhausted.

I quickly got the ladder and a hoe and tried to free him. I found that if I pushed apart the boards that held his paw, he just sank deeper into the vee shape they created. The baby raccoon at this point is screaming bloody murder, and the ladder is kind of rickety and everything is situated in such way that I have lean way over to reach the little monster.

I ran and got a extension pole for a paint roller and tried again, this time prying the boards apart wih a hoe and pushing up under the baby raccoon with the extension pole. The baby raccoon is doing his best impression of Linda Blair in "The Exorcist" at this point, and I am swearing under my breath and it all seems hopeless until finally he falls to the ground with a resounding thud at the base of the ladder. He is breathing but not really moving. I get off the ladder and put the tools away and go and talk to him for a little while. Eventually he hobbles over to the shed where I keep my garbage can and climbs under the door. he was dragging his right rear paw behind him sole up, like it was broken. (But I don't really know, maybe it was just numb from the ordeal.)

I didn't know what to do, so I brought him some dry cat food and some wet cat food and just left him alone. I checked on him periodically, and he just glared at me from the corner of the shed. He did still have an appetite though, which I took as a good sign. He ate all of the food I gave him right away. I fed him again later, and he ate that too.

And now I don't know what to do. I can't call the Humane Society because they will just put him down, and I can't keep him. I hate those impossible situations that spring up out of nowhere and disrupt all of the other impossible situations I am already knee deep in.

With a little luck he will feeling well enough to find his way home tonight. I'll check on him in the morning.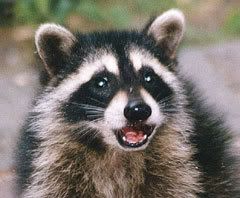 UPDATE: The baby raccoon has left, the shed was empty this morning. I hope he finds his mom!