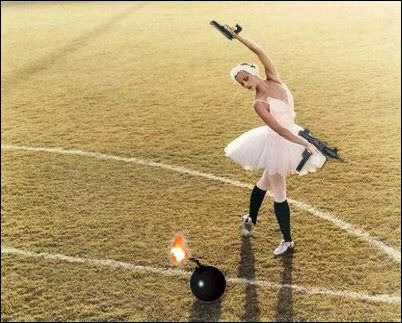 The tag team of
DCup
and
Dr. Monkey Von Monkerstein
have both been talking this morning about a particular post by
Angry Ballerina
,
"Wolf sees sheep. Sheep runs. Gets eaten."
In light of this and in the true spirit of one-upmanship, I feel compelled to point out that there are many other fine posts at this blog. The one titled
"Blue's little monster"
was perhaps a more moving story, whereas
"Dearest Baby Blue"
was probably a neater and cleaner stroke of unbridled venom.
Still, in my mind the most interesting piece and my personal favorite to come out of this blog as of late would have to be the post about Angry's dream about zombies that didn't actually have any zombies in it,
"Blue likes the light."
The imagery is haunting - not because it is frightening, but because it is compelling.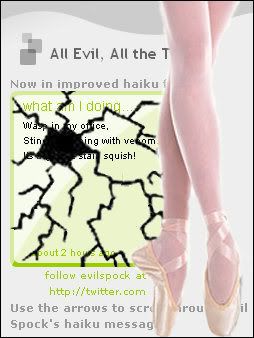 BTW, did you see what she did to Evil Spock's new Twitter thingie? Ha! That'll learn him.