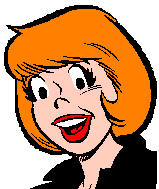 When I was a kid, I loved the theme to
Josie and the Pussycats!
The rest of the show was ok, but when the theme played it was the coolest thing ever! The best part of being a kid was watching Saturday morning cartoons in you PJs, and the best part of Saturday morning was the great bubblegum pop Saturday morning cartoon theme songs, like The theme for
The Jackson 5 show
,
The Osmond Brothers,
the Banana Splits
,
Sugar, Sugar
by the
Archies
, and all of the other great shows.
They used to play one musical number during the show a week, and
YouTube
has a couple of them,
"Inside Outside Upside Down"
and
"Lie Lie Lie"
, that seem to have held up quite well, considering that they are musical numbers done for a children's show from so long ago.
Wikipedia has a page on
Josie and the Pussycats
TV series, and there are numerous Josie and the Pussycats cartoon show fansites [
1
|
2
|
3
|
4
].
I Love Cartoons
has couple of really neat pieces of Josie fan art [
1
|
2
|
3
].
Rhino Records
has a record out,
"Josie And The Pussycats - Stop Look And Listen: The Capitol Recordings"
, of some of their hits. If you go to the page, you can listen to some of the 30 second Quicktime audio samples of the songs.
The Josie and the Pussycats "Musical Evolution"
Cartoon Network Bumper
is absolute genius! I can't recommend this brief clip enough. The filmmakers jump from musical and art syles at a frantic pace to create a seamless little work of art that is just a joy to watch.
If you look up
"Josie And The Pussycats"
on a search engine, most of your hits will be about the
"Josie And The Pussycats" the live action film,
though. I thought that the movie was pretty good, but mostly because it starred Rosario Dawson as Valerie and Parker Posey as Fiona. You can read the lyrics for the songs in the movie
here.
I really liked the two Gwen Stefani songs,
"Real Wild Child"
and
"Your a Star"
.
It is really fun to watch fans
Hannah & the Pussycats
and
Lipstick Homicide 6/4
do covers of the songs just for the heck of it.
I also found this great clip of a
Teen Movie Mashup
with the happy endings of the following movies: "16 Candles", "That Thing you Do", "Saved!", "Garden State", "Eternal Sunshine", "Center Stage", "Can't Hardly wait", "Wimbledon", "Benny and Joon", "Bridget Jones' Diary", "Love Actually", "Sense and Sensibility", "Josie and the Pussycats", "From Hell", "10 things I Hate About You", "Clueless", "The Cat's Meow", and "The Chumscrubber". The background music is "head over heels" by the Go-Gos. I really thought that this video was a lot of fun. A whole clip of just happy endings!
UPDATE:
Ben Varkentine has added a
link
to his review of the film.