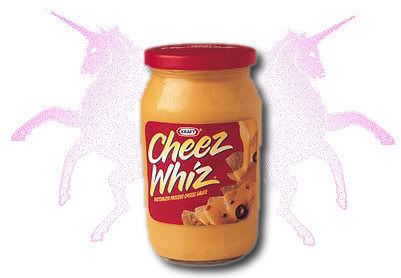 Dark matter and dark energy: The Invisible Pink Unicorns of Science
TRUTH,
n
. An ingenious compound of desirability and appearance. [Bierce]
We have all heard the phrase that something is "scientifically impossible" or that something "cannot possibly exist." Bear this in mind while I discuss a widely accepted scientific notion, the Big Bang Theory. When certain points of this standard of modern science are brought to light, the dogma of subjects like philosophy and religion do not seem so ethereal by comparison.
We all know about the Big Bang Theory. What is often not mentioned about the big bang theory is that for it to make sense to the calculations of physicists, something else, something unseen, must exist in the universe. Scientists call it dark matter and dark energy.
So to believe in the big bang, you have to create another theory to support the first one. "The total amount of dark matter can be calculated from big bang nucleosynthesis, and observations of the cosmic microwave background."
[Baryonic]
Modern cosmologists and physicists are working like the dickens to figure out what all of this dark matter and dark energy "stuff" is. For the big bang theory to be true (and I'm not knocking it), modern science states that the universe must be composed of "4% ordinary matter, 23% of an unknown type of
dark matter
, and 73% of a mysterious
dark energy
."
[WMAP]
This mysterious "other stuff" is not just out there past Pluto. It is in the room with you right now! The calculations based the movements of the planets within our solar system show that dark matter and dark energy are all around us, on this planet, and all around you. Parts of you are probably even made of dark matter and dark energy!
95% of what is around you is unobservable by any form of scientific instrumentation, according to science. Our model of the universe only accounts for 5% of what we can observe with any instrument known to man.
It is not a matter of some unseen force might be possible in your mind or imagination - it is a matter of some unseen force must exist, or science itself is talking through its hat.
This substance could be anything; we don't know what it is. This would mean that it is entirely possible that a vast portion of the universe may be made of large quantities of invisible Cheez Whiz - Or to use a phrase that might have a bit more irony, according to the Big Bang Theory, it is possible that at this moment that we are surrounded by "
invisible pink unicorns
."
Atheists tease theists with this reference. "The Invisible Pink Unicorn (IPU) is the goddess of a satiric parody religion aimed at theistic beliefs, which takes the form of a unicorn that is paradoxically both invisible and pink. These attributes serve to satirize the apparent contradictions in properties which some attribute to a theistic God."
[Wikipedia]
In a universe filled with 95% invisible "stuff," atheists cannot refute that they have their own "invisible pink unicorns." (As an aside, it has been argued that invisible pink unicorns are not really invisible,
it's just that you can't see them
.)
Certainly dark matter and dark energy can lead to a certain degree of speculation in this area, just as philosophy and religion do in their own realm. To paraphrase Ambrose Bierce,
"certain subjects stimulate the organ that a scientist makes a fool of himself with."
[Bierce]
Atheists take great satisfaction in showing alleged discrepancies or contradictions in the Bible, and Theists seem to derive great pleasure from pointing discrepancies or contradictions in science. Both sides attempt to pick at chinks in the other's armor, and seem to derive great satisfaction from the rich creamy goodness of their own speculations and assertions.
The funniest and most accurate observation that you can make about the science vs. religion debate is that either side already has far too many marbles in their mouth to legitimately be giving the other the raspberry.
I wrote this in college. The original was longer and covered other subjects as well. I had to give a Power Point presentation about the paper. I got a good grade, and the audience loved it, but the teacher said that she did not understand the point I was trying to make. This is kind of an addendum to my
previous post about religion,
as well as an
interesting discussion
that I had with
Samurai Frog
and
Infidel753
.