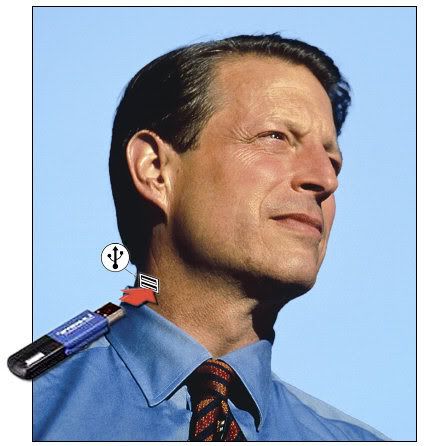 In a recent interview with
Harvard's alumni magazine
, former Vice President Al Gore confirmed that the office of the Vice President is indeed part of the executive branch, despite earlier assertions made by Vice President Cheney. The former vice president also explained a recent technologocal trend among Democrats that is being used to contain some of the outrage that is being caused by the present administration.
Harvard Magazine:
You were often referred to as the most powerful vice president.
Gore:
That was before Dick Cheney.
Harvard Magazine:
Point taken. Cheney has made the argument that the vice presidency is not part of the executive branch. Is he right?
Gore:
(Laughs) Of course the vice presidency is part of the executive branch! But I fear that I'm losing my objectivity where President Bush and Cheney are concerned. Not much surprises me anymore.
I have a lot of friends who share the following problem with me: Our sense of outrage is so saturated that when a new outrage occurs, we have to download some existing outrage into an external hard drive in order to make room for a new outrage.
Think Progress
I think that I am going to need a couple more flash drives. Hmmm... I seem to have forgotten the conversion table for units of outrage to kilobites.