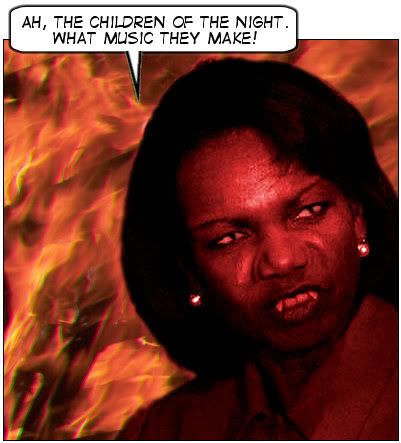 UNITED NATIONS (AP) — U.S. Secretary of State Condoleezza Rice and Iraqi Prime Minister Nouri al-Maliki kept a polite distance as they attended a group meeting and avoided discussion of a deadly Baghdad shootout involving guards from a U.S. company protecting American diplomats.
The two greeted each other before the meeting Saturday, but in a brief exchange of pleasantries, the issue of the shootout did not come up, deputy U.S. State Department spokesman Tom Casey said.
With tensions soaring over the Sept. 16 incident, Rice and al-Maliki chose not to speak about it at a United Nations gathering at which they were among senior diplomats and officials from Iraq's neighbors, including Iran and Syria, weighing future assistance to Iraq.
Earlier, the State Department's Iraq coordinator, David Satterfield, said the two did not have any one-on-one contact. Satterfield testily told reporters that the issue of the incident was not on the agenda. He told reporters after the meeting that Rice had already spoken by phone with al-Maliki about the matter.
At the same time, Iraq's Interior Ministry said it had expanded its investigation of the shooting to include six other incidents involving Blackwater guards over the past seven months.
The developments added to rising U.S.-Iraqi tensions, which shot up following last Sunday's shooting that killed at least 11 Iraqis, including civilians.
[...]
The presence of Rice and al-Maliki at the same meeting here was the closest high-level encounter between the governments since the incident and since Rice on Friday announced a full review of State Department security in Iraq.
[...]
Maj. Gen. Abdul-Karim Khalaf said the U.S.-based company has been implicated in six other incidents over the past seven months, including a Feb. 7 shooting outside Iraqi state television in Baghdad in which three building guards were fatally shot.
Blackwater USA spokeswoman Anne Tyrrell had no comment when reached by telephone Saturday morning.
USA Today