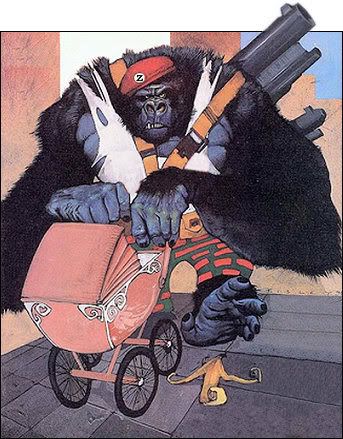 In a blatant attempt to curry favor
As part of my campaign's never-ending attempt to satisfy the needs and desires of the general public, General Ursus and I have decided that my Gorilla Army should perform duties above and beyond their regular duties of rooting out and destroying nests of
neconservative mutants
worshiping nuclear weapons.
After Ms. Gregarious and I have won the presidential election, my gorilla army will not only focus on protecting and serving the citizens of this fine country, but will also simultaneously be put to work performing free childcare for the hard-working mothers of this nation. This two-pronged plan will not only act as military strategy, but should also help out the plight of mothers everywhere.
Any concerns that you may have as to the ability of a gorilla to take care of your child and protect this nation at the same time should be immediately put to rest. Gorillas are not only great with kids, but they are darn fine marksman! I am sure that any American child with embrace the warm disciplinarian care of my militant gorilla army.
My running mate,
Germaine Gregarious
has also stated that the members of
The Nefarious Lair of the LGPPP
vow to help the young mothers of this nation in any way possible.