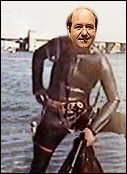 What's sexier than a former Jerry Falwell employee in an wet suit? A former Jerry Falwell employee in two wet suits, wearing a strategically placed dildo in his rubberized male underpants!
Click here
to see a brief video of the official GOP reaction to this story by the corporate media.
Gary Aldridge, Former
Liberty University
graduate, Jerry Falwell employee and senior pastor at the Thorington Road Baptist Church was found dead at his home on June 24. A church member found the body after Aldridge failed to show up show up for 10 a.m. services.
He died of
autoerotic asphyxiation.
A preliminary report from the Alabama Department of Forensic Sciences said Aldridge died of asphyxiation -- suffocation. Initial reports by Dr. Stephen Boudreaux, a medical examiner, said there were no injuries to Aldridge's body.
Montgomery County District Attorney Ellen Brooks sealed the case when the official autopsy report conducted by Boudreaux was sent to Forensic Sciences on July 13. Boudreaux received a letter from the district attorney's office instructing him not to release any of his findings.
drudge.com
The story has been covered up by the Montgomery County District Attorney until the website
Smoking Gun
obtained a copy of the autopsy report:
The decedent is clothed in a diving wet suit, a face mask which has a single vent for breathing, a rubberized head mask having an opening for the mouth and eyes, a second rubberized suit with suspenders, rubberized male underwear, hands and feet have diving gloves and slippers. There are numerous straps and cords restraining the decedent. There is a leather belt about the midriff. There is a series of ligatures extending from the hands to the feet. The hands are bound behind the back. The feet are tied to the hands. There are nylon ligatures holding these in place with leather straps about the wrists and ankles. There are plastic cords also tied about the hands and feet with a single plastic cord extending up to the head and surrounding the lower neck. There is a dildo in the anus covered with a condom.
thesmokinggun.com
This is something of an abberation. We all know that if Aldridge had been a "normal" Republican Christian, he would have been performing regular, everyday GOP sexual activities, like propositioning underage boys, servicing hookers, or having some afternoon fun in an airport bathroom.

The wet suit and the dildo may be perfectly normal by Republican standards, but many in the GOP object to Aldridge's usage of a condom for religious reasons.