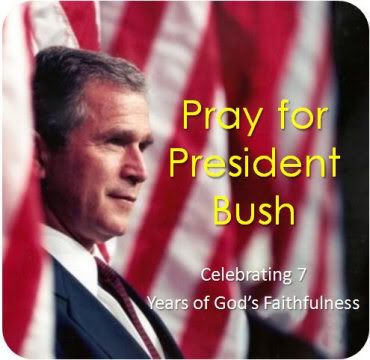 Bear in mind that the author of this does not see any problem with writing as the genuine voice of God in the first person.
My children,
You must continue to cry out for your land. By My mercy and because of your fervent prayers, I have withheld My hand of judgment on the nation. I have allowed a godly man to win the election that the nation might return to Me, but the battle has only just begun. Many were those throughout the world who cried out for America as the election drug on, but few now persist in prayer. Complacency has surely again quickly struck and many have ceased to pray, thinking the battle was won when Bush was declared the winner. To you I say, "No. The true fight has only just begun. Be steadfast in prayer for your nation."
[...]
A significant victory was won in the election, but it was but the first of many battles that shall be waged. Remember the instruction that you received through the election. The real struggle is not in the political realm, but in the spiritual. There shall be victories followed by what seem to be setbacks (attacks and counterattacks). Celebrate the victories, but after them increase your prayer efforts,
for the enemy's counterattack shall attempt to steal away the victory. He shall use the voice of deception in an attempt to tarnish the image of the president and discredit him. He shall continue to speak through the voice of the former president, who shall remain in the forefront. Cry out that the lies be exposed and that the eyes of the American people be opened to see the truth. The former first lady shall be a key player, for her desire is to rise to power. They have been given a foothold and would surely lead the nation to ruin were this election not wrested from their clan. Pray for them. There is yet time for them to repent and turn to Me, but their hearts have been gripped by greed and lust and power. Many are those who worship the former first family and have allowed themselves to be deceived by them. Pray that the lies be exposed. Surely shall their fall be great, as is that of each who ascends to power through the works of the evil one.
When it occurs do not rejoice, but weep for them as do I over each lost child who strays from Me, for it pains Me to see the suffering they bring upon themselves because of their hardened hearts. Do not cry out for judgment, but rather for mercy, for surely were you, too, once lost and dead in sin.
So then, My children, devote yourselves to prayer for your nation. Meet together with your brothers and sisters to cry out for your land. Persevere in the face of victory and defeat. Stand firm and surely will you behold the fulfillment of all that I have promised.
Holy crap! Read this!
Pray for Dick Cheney, too!
My children,
You must continue to persevere in prayer. The enemy is in these days gaining ground because the Body is not heeding My call to pray. You are to pray for your nation and her leaders. Cry out for their protection and health, for their covering. Vice President Cheney has again been admitted to the hospital with heart trouble.
"Why do you not heal him, Lord?" you cry. "Is he not sacrificing of himself in order to serve his nation? Why then do you not heal him?"
[...]
This call issued this day is that you would return to fervent prayer for your land. Devote yourselves to this, and behold, shall she again as one nation boldly confess My name before the world and walk in all to which she has been called. Receive this call. Respond to it. Write it on your hearts and on your minds. Confess to Me when you fail, and cry out that My Spirit would teach you to pray. Though you be the only one of all the earth to truly heed this call and walk in obedience to it, yet shall all that has been promised be fulfilled, for such availeth the fervent prayer of but one righteous man or woman. Be ye one of these, then, My sons and daughters. Be ye one of these.
Holy crap! This one is even worse!