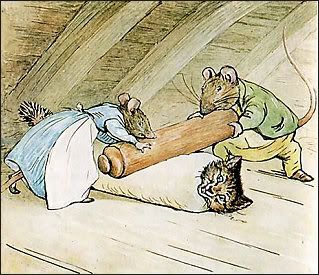 This is a picture of two rats, Mr. and Mrs. Whiskers, making Tom Kitten into a roly-poly pudding.
Aunt Dahlia
has tagged me with the Book Meme. The instrctions for this meme are as follows:
1. Pick up the nearest book (of at least 123 pages).
2. Open the book to page 123.
3. Find the fifth sentence.
4. Post the next three sentences.
5. Tag five people.
The book that was closest to me happened to be "Tales of Peter Rabbit and his Friends" by Beatrix Potter. I love the illustrations and the dark humor that Potter often injects into the stories. And old girlfriend gave the book to me years ago. (she also gave me a fine rabbit that was named Rabbitoid.) On Page 123 is the story of "The Roly-poly Pudding," an exciting tale of young Tom Kitten, who is almost made into a roly-poly pudding by two rats, Mr. Samuel Whiskers and his wife Anna Maria.

At this point in the story, two cats are discussing catching and eating baby rats. Page 123, 5th sentence of the book "Tales of Peter Rabbit and his Friends" by Beatrix Potter:
"I caught seven young ones out of one hole in the back kitchen, and we had them for dinner last Saturday. And once I saw the old father rat - and enormous old rat - Cousin Ribby. I was going to jump on him when he showed his yellow teeth at me and whisked down the hole."

"The Rats get upon my nerves, Cousin Ribby," Said Tabitha.
I don't like most children's books as a rule, but I love the classics: Lewis Carrol, Hans Christian Anderson, Beatrix Potter, Aesop's Fables, Grimm's Fairy Tales, etc. I think that many people forget how delightfully horrific and gruesome they are. And the illustrations are often macabre masterpieces!
I tag
FranIAm,
Skippy the Bush Kangaroo,
Darkblack,
Liberality
and
Germaine Gregarious.
Labels: Blog Memes