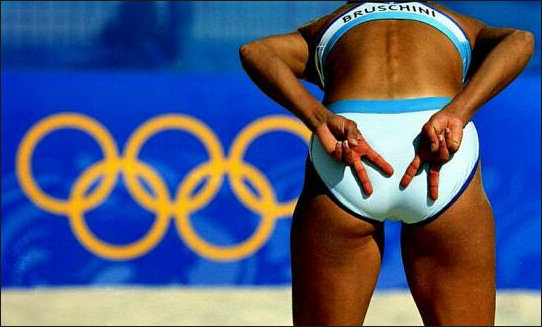 No time for blogging today! As a matter of fact, I might be kind of busy all week. Just in time for the Blogger Beach Party, this week we have Women's Beach Volleyball at the 2008 Beijing Summer Olympic Games! For the latest Olympic Women's Beach Volleyball TV schedule information, go to
NBCOlympics.com
[
2
]
I find that I am lacking a certain something when it comes to sports on television. It was not a lack knowledge of these sports on my part that poses a problem, as my ignorance on any issue has never stopped me from making very opinionated statements on an entire range of subjects in the past. No, what is lacking on my part is...
Interest.
I find that most sports leave me quite disinterested. I am not saying that watching grunting, sweaty men playing with their balls is not of interest to some - clearly there is an audience for that sort of thing. I am just attempting to point out that there is a sport that is far more interesting and exciting than this standard media fare. I am speaking of course of women's beach volleyball!
Even with only a rudimentary knowledge of the rules of the game, I find that I am still captivated by the vigorous serves, lively rallying and brightly colored costumes. I believe that the game far superior to any of the sports I commonly see on television. The game is so captivating, I don't even bother to keep score!
Labels: Women's Beach Volleyball