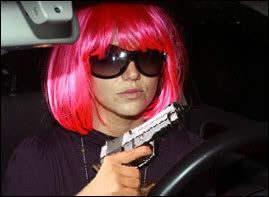 Top White house sources have revealed today what has long been suspected, Britney Spears is actually an Undercover Agent of Media Obfuscation for the Republican Party. Her lifelong assignment to distract the American media from the dark agenda of the GOP has been highly successful, and to date the effect that her career has taken on American news has only begun to be compiled. Below is a highly condensed timeline of Britney's many exploits...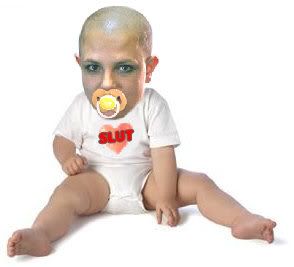 1993-1994:
Spears recieves her initial secret GOP training from
Cyrus Nowrasteh
while she is a cast member on the Disney Channel's "The New Mickey Mouse Club," along with other future celebrities Justin Timberlake, Christina Aguilera and
Canadian
Ryan Gosling.
October 1998: In reaction to the election of Germany's New Chancellor, Gerhard Schroeder, and his liberal Green Coalition party taking office, Britney Spears releases the pro-Christian video "Baby One More Time".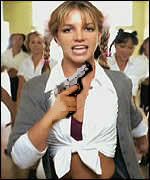 Former defense secretary Clark M. Clifford, an adviser to both President Kennedy and President Johnson, is murdered the very same month.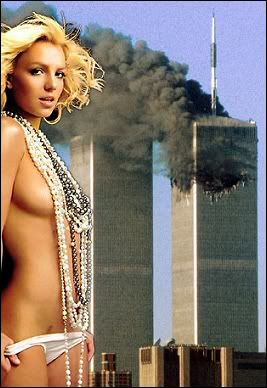 To dispel rumors of inept decisions made by the White House during the months before the tragedy of 911, Britney
faked her own death
[
2
], using as a motive for her apparent self-immolation a recent
"Worst Dressed Woman of 2000 Award"
from parter in crime, Richard Blackwell, Hollywood's self-appointed fashion czar.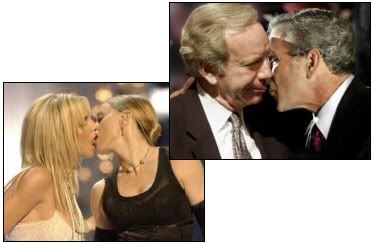 After murdering Liberal Democratic Ideology Situation Comedy actor John Ritter, Britney
appeared on the MTV Video Music Awards
[
2
] and gave a steamy mid-performance kiss with her middle-aged counterpart, Madonna, to help start the Republican anti-gay agenda build steam for the 2004 presidential election.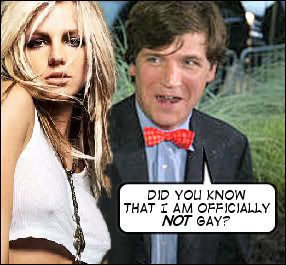 September 3, 2003:
In response to the many godless actors and entertainers that had become outspoken critics of President George Bush, Spears issues a statement with the help of Special Agent Tucker Carlson. (For the record, Carlson is still officially
not gay
).
CARLSON: A lot of entertainers have come out against the war in Iraq. Have you?

SPEARS: Honestly, I think we should just trust our president in every decision that he makes and we should just support that, you know, and be faithful in what happens.

CARLSON: Do you trust this president?

SPEARS: Yes, I do.

CARLSON: Excellent!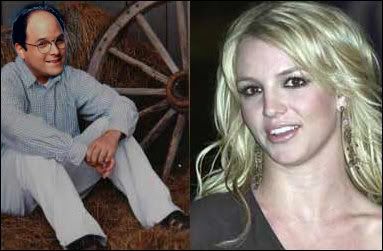 Jan. 3, 2004: To quiet rumors about China's fifth-largest brokerage being seized by the China Securities Regulatory Commission, Spears cancels her Onyx Hotel Tour and weds "Seinfeld" star Jason Alexander in Las Vegas. The marriage is annulled 55 hours later, after China Southern Securities' activities are successfully clamped down.
Britney's wedding is also timed to discredit the BBC's socialist "Top of the Pops" television program for censoring it's Coca Cola sponsorship after criticism from politicians and health campaigners that it would be promoting "junk food". Britney's wedding in a Las Vegas drive-thru chapel is utilized by the Republican party to protect their corporate masters as an example of the awesome Christian value system that the GOP offers.
July 2004: Spears announces her engagement to Kevin Federline, whose former girlfriend is pregnant with their second child. They wed on Sept. 18, 2004 to coincide with the Senate vote on The Federal Marriage Amendment, a bid by members of the United States Republican Party to amend the United States Constitution to ban same-sex marriage in the United States. (Further details of their marriage can be found at
this link
.)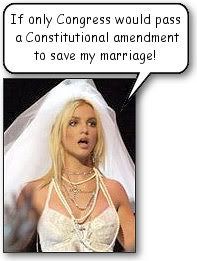 To dispel the idea that minimum wage should be raised and to help to cover up the connections between Enron and the White house, Britney releases her new television series that documents her courtship,
"Britney and Kevin: Chaotic"
and features Spears eating Cheetos constantly.
Cheetos contain a mind-altering substance that sedates people into trusting the media - and also turns their fingers orange.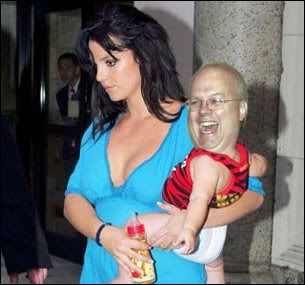 Britney's First son, Sean Preston, is born on Sept. 14, 2005 to overshadow the event of the President of Pakistan, Pervez Musharraf shaking hands with the Prime Minister of Israel, Ariel Sharon, the first time such an encounter has been made in public. The birth of her son is instrumental in preventing an all out peace from breaking out in the Middle East.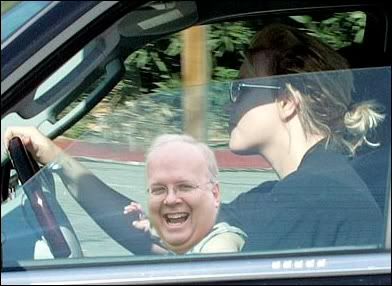 February 2006: In an attempt to help quell public furor over the Dubai Ports Deal, Spears allowed paparazzi to photograph her driving while holding her son Sean Preston on her lap and not in a car seat. Public outcry over the Dubai Ports Deal is minimized as public outcry over Britney and her son's lack of car safety ensues. Mission accomplished!
To show her support for the morals of the Republican Party and the Religious Right, Britney becomes pregnant with her second child...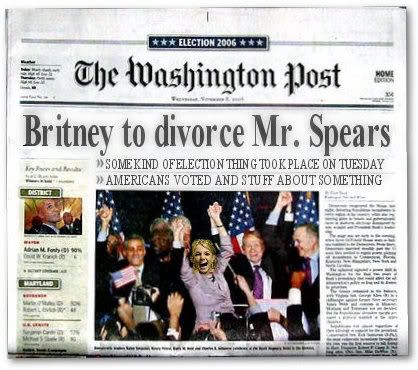 On the same day that the Democrats take the House and the Senate, Britney files for divorce from Kevin Federline. To help promote to the public the many uses of her corporate master's products, she delivers the news to Federline via text message.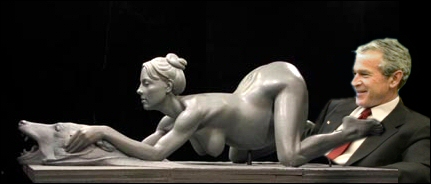 ...The media is abuzz with news of Britney second pregnancy, and rumors abound as to the paternity of the child...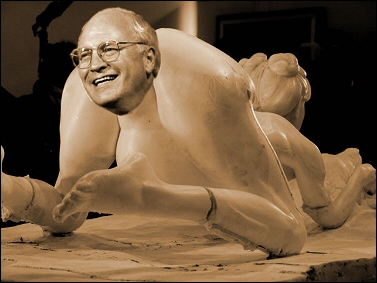 On Sept. 12, 2006 Britney's second son, Jayden James, is born. Her second child's birth is meant to coincide with Colin Powell's 'resignation' eight days after President Bush's election to his second term.
In February 2007 Britney begins partying incessantly with future presidential candidate Paris Hilton to draw attention away from the Walter Reed Army Medical Center investigation.
To distract the American public from the Iraq war, and to show support for the troops, Britney appears in a series of paparazzi shots "commando style".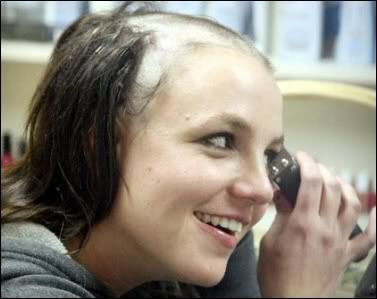 Britney managed to successfully draw the American public's attention away from President Bush's attempt to repeal of the Estate Tax and make his tax cuts permanent in the proposed 2008 budget by leaving rehab and shaving her head bald and attacking a photographer with an umbrella.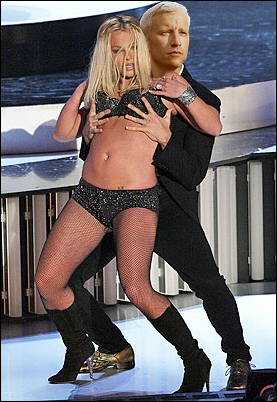 in September 2007, Britney launched her comeback to coincide with the Pentagon's remewal of Blackwater's Contract to the tune of $92 Million, despite Blackwater USA's fatal shooting of 11 Iraqi civilians. Britney mades sure that she mirrored the administration's performance in Iraq in her performance on the MTV Video Music Awards, that is to say she was uncoordinated, lackluster and bafflingly inept.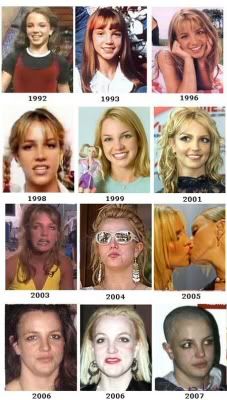 As a highly trained secret agent, Britney is a master of disguise - able to modify her appearance and take on the semblence of many negative female stereotypes, including everything from a spoiled child star brat to a teen trollup to a doughy, pasty faced harpy to a tired Hollywood washup to a psycho child star has-been.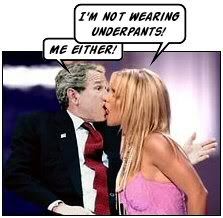 The full details of Britney Spears' involvement in the pro-Republican obfuscation of the media are still being revealed, and we can expect the full story to come out in due time. Some details may never come to light, however...