One of my favorite movies is the film,
"Young Sherlock Holmes".
When it first came out there was a computer generated sequence that involved one of the character's hallucination of a knight that pops out of a stained glass window that was unlike anything that I had ever seen on film before. (Unfortunately, I cannot find a video clip of this scene.) I watched the film on HBO over and over because of this one scene.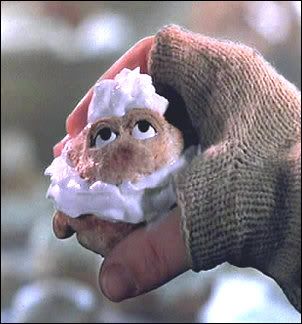 Another scene that I quite liked was the scene where a young Dr. Watson has a frightening drug-induced hallucination of a series of bakery goods that came to life. Here we see a picture of the beginning of the hallucination as an eclair is opening it's eyes for the first time...
Then all of the baked goods come to life...
And force young Watson to eat them!