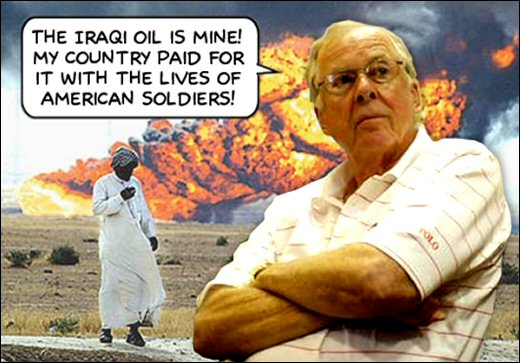 Remember T. Boone Pickens? he's the corporate raider that spent millions on television ads [
1,
2
] proclaiming that he was pro-natural gas after being an oil man all his life. He later tried to sucker California voters into a referendum regarding his natural gas fueling station company that would have benefited Pickens' company to the exclusion of almost all other clean-vehicle fuels and technologies.
Mr. Pickens is the man that gave millions of dollars to George Bush and the Swift Boat Veterans For Truth. He also offered a million dollars to anyone able to dispute any claims made by the Swift Boat Vets. John Kerry sent Pickens a letter accepting the challenge. In response to Kerry's acceptance of the challenge, Pickens issued a letter narrowing the original challenge and changing the rules of his original offer.
Now the "reformed" oil man is complaining that the Iraqi government has awarded contracts to foreign companies, particularly Chinese firms, to develop Iraq's vast reserves while Pickens and other American oil companies have mostly been shut out.
"They're opening them (oil fields) up to other companies all over the world... We're entitled to it," Pickens said of Iraq's oil. "Heck, we even lost 5,000 of our people, 65,000 injured and a trillion, five hundred billion dollars."
It's appalling that thousands of American soldiers' lives have been lost, just as it is appaling that hundreds of thousands of Iraqis lost their lives in the Iraq war. It's loathsome, offensive and disgusting that an unsavory character like T. Boone Pickens is now trying to cash in on the lives of America's fallen soldiers.
thinkprogress.org