No time for blogging today - It's my birthday! I was born in 3795 A.D., which means that I am
negative
1784 years old!
(Try and explain that to the DMV.)
I think that I shall spend my birthday digging up some old friends.
(One annoying thing about cemeteries is that everybody speaks in such a grave manner!)
In the meantime, you can watch this swell video of
"The Adventures of Lil' Cthulhu".
(Gosh, he's a cute little fellah!)
By the way, tomorrow the 16th is
BAC's Birthday,
so we are practically sharing the same shallow grave! Also, Tuesday the 13th was
Texas Betsy's Birthday!
Also, I have the same birthday as my friend Steve at work! Yay!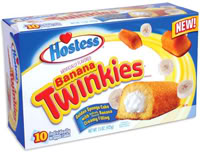 Banana Twinkies for everybody!