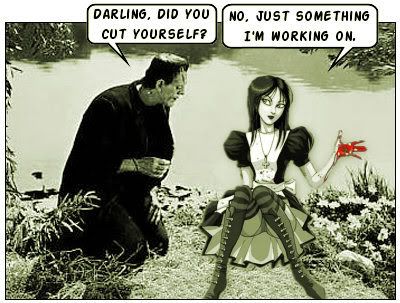 Here is my homage to Valentine's Day. I wrote the synopsis for a love story. I always thought that somebody should combine the two stories Alice in Wonderland and Frankenstein.

Picture a lazy summer afternoon, and Alice Frankenstein (instead of Alice Liddell) creates a creature from human parts gathered from various sources.

With the aid of the white rabbit, the creature escapes to the alternate dimension of Wonderland. Realizing her error and deciding to find the creature and capture it, Alice chases the monster all through Wonderland.

The monster is unfairly accused of drowning the dormouse in teapot by the people of Wonderland. The monster is on the run from Alice Frankenstein throughout most of the story, aided by characters from Wonderland along the way.

The monster is not vindicated until the end of the second book, "Through the Looking Glass, Darkly," when the dormouse is brought back from the dead by Alice Frankenstein. The dormouse fingers the Mad Hatter as the murderer, and the Monster and Alice Frankenstein marry, and rule wonderland as King and Queen. The two live happily ever after performing experiments of questionable scientific value on their loyal subjects.

Or something like that.
---