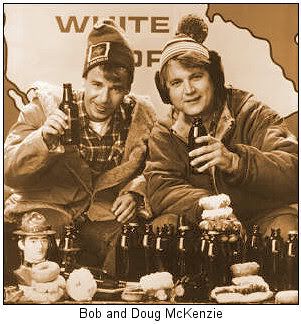 Rick Moranis and Dave Thomas played the fictional Canadian brothers Bob and Doug McKenzie who hosted a fictional television show, "The Great White North." the genius of the show was not that it was an accurate portrayal of Canadians, nor that the show was rife with comedic catchphrases such as "beauty, eh?" and "take off, you hoser!"

What was memorable about theses skits was the interplay between Moranis and Thomas, and how they accurately portrayed the childish interaction between siblings in everyday life. Also, the behavior of the charectors that they played, whose priorites in life were essentially the quest for beer and not much else, was easily identifiable to any American audience. The way that the McKenzie brothers acted was frightenly close to the behavior of people that the audience either already knew, went to high school with - or were related to!

Living the American dream the Canadian way, Bob and Doug McKenzie in the "The Great White North."
Labels: YouTubing