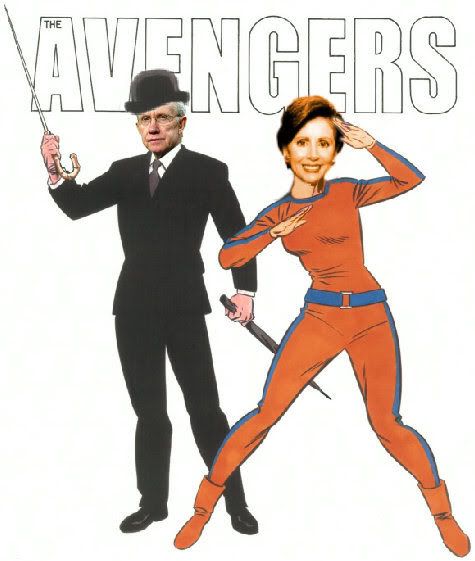 Emma Peel: "Always keep your bowler on in time of stress,
and watch out for diabolical masterminds."
Washington
-- Only two things are certain as Speaker Nancy Pelosi and her Democratic deputies prepare for this week's House vote on a war spending bill that seeks the withdrawal of U.S. forces from Iraq by Aug. 31, 2008.
One, even with a full-court press for votes, passage will come narrowly, if at all. Two, President Bush says that if legislation setting any sort of deadline for ending the U.S. involvement in Iraq makes it to his desk, he will veto it.
With the war entering its fifth year and with the narrowly divided Senate virtually deadlocked because its rules require 60 votes to pass anti-war legislation, the House debate takes center stage this week.
Pelosi's Democrats have a 233-201 majority in the House, which has one vacancy, and only a handful of Republicans are expected to cross their party's leaders and vote for the $124 billion war spending bill that has been sweetened with billions in domestic spending.
The legislation, called the supplemental appropriation, would provide money to pay for the war effort through the end of the federal fiscal year Sept. 30. It would set a timetable tied to performance benchmarks for the Iraqi government that would pull U.S. combat troops out of Iraq by the end of next summer.
The bill also includes requirements for troop deployment, training and equipment intended to slow Bush-ordered deployment of almost 30,000 more American troops to Iraq -- although the president can waive the rules publicly to move the forces more quickly into the war.
San Francisco Chronicle
Labels: Nancy Pelosi