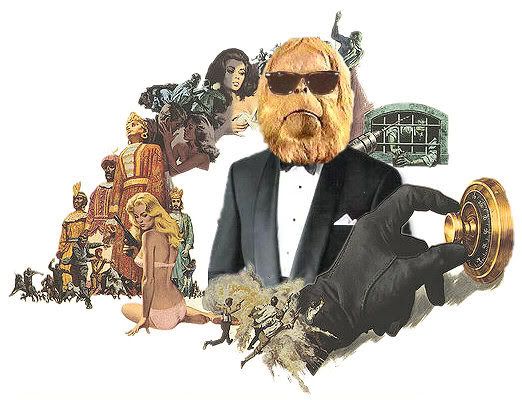 I'm back! And what a day I had! First I had to steal the intergalactic data that I needed to save
April Dancer
,
the Girl From U.N.C.L.E.
, from the clutches of the evil
Dr. Pretorius
. I needed to break into the
Library of Alexandria
in the middle of the night to get to the information, using nothing more than a few floppy discs and my simian wits!
I donned my one-piece latex jump suit and gained access through a bathroom window that I had forced open earlier in the day. I then fed steaks to the attack dogs, drugged the guards, used collapsible roll-up mylar mirrors to fool all of the security cameras, somersaulted through the laser-beam alarm system, and then copied the files into my special Angelina Jolie/Hello Kitty jumpdrive and escaped through the air vent before the authorities are alerted.
Q branch later told me that the intergalactic data that I needed was actually in the public domain. Imagine my surprise after going through all of that trouble! Boy was M pissed, he said that I could have caused an international incident! Later we lost Agent MK7 in an unfortunate ejection seat malfunction.
I was trailing Dr. Pretorius, and he led me stratight into a trap he had set for me at the Museum of Natural History, in the Hall of Man Exhibit. I was too fast for him, though, and I chased him and his henchman through the streets of Cairo and Madrid.

The next thing you know, lions and tigers were attacking at me from all sides as I leapt from the rocket launcher onto the nuclear submarine that April Dancer, the Girl From U.N.C.L.E. was tied to. 10,000 red Chinese infantrymen were just coming over the horizon as I reached the periscope and started to undo her bonds.

"Oh, Zaius, I knew that you would save me!" April said, breathing heavily. "Hold steady, April," I grunted stoically as I undid the last of the ropes that bound her, and pivoted with lightening-fast reflexes just in time to shoot the tentacle of the mechanical squid that Dr. Pretorius had set as trap for me.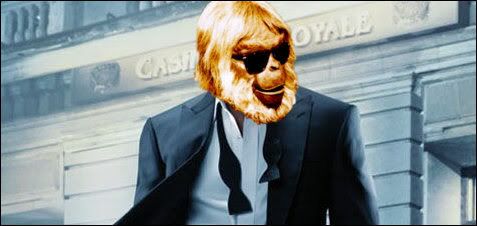 April and I leapt down the submarine hatch and had to fight off several guards before we blew up the hyper-sonic death ray using nothing but a chewing gum wrapper and one of April's bobby pins. But the evil Dr. Pretorius escaped in a mini-sub! ACK! Damn you, Dr. Pretorius!