Zuni Fetish Bathtub Clip
Zuni Fetish Ending!
Zuni Fetish Music Video!
Angry Doll with a Knife!
Zuni Fetish Doll on the toilet
Zuni Fetish Dolls from "Attack of the Beast Creatures!"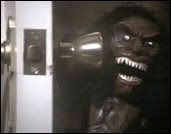 "Trilogy of Terror"
is a made-for-TV movie from 1975. As the title indicates, the film is broken up into three stories. The first two are fairly pedestrian and boring, but the third story,
Amelia
, is a remarkable bit of filmmaking. This movie scared the bejeesus out of me when I was a kid!
There are only two characters in the this brief twenty minute story, Amelia, played by Karen Black, and a Zuni Fetish doll that Amelia has bought for her anthropologist boyfriend.
A scroll that accompanies the fetish states that the doll contains the spirit of a Zuni hunter known as "He Who Kills", and that if the gold chain that hangs around the doll's neck should ever be removed, the spirit will bring the doll to life. You can guess what happens next.
I was just a kid when I first saw this film, and the Zuni fetish scenes had a strong impact on me. Whenever the film was rerun, I would watch it again, dutifully sitting through first two stories to get my twenty minute fix of homunculus horror!
You have to remember that
"Star Wars"
had not come out yet, and the pinnacle of puppet special effects at that point were films done by Ray Harryhausen. This is not even stop motion animation, but an actual puppet! At the time, this was cutting edge film making, especially for a made-for-TV movie.
I saw the real Zuni fetish prop at a exhibit of Hollywood paraphernalia, and I was immediately disheartened. It was just a little blob of latex with a metal track with four wheels underneath it to propel the device. Still, the film has made an impact on the general public, and there is something of a cult following for the little guy. The scene from the film
"Attack of the Beast Creatures!"
is obviously an homage to
"Trilogy of Terror".
You can even buy your own
Trilogy of Terror Zuni Fetish doll!
But who in their right mind would want to own a Zuni fetish? There are some things that you don't want to have in the house with you when you turn out the lights. It's like having a
Tybo the Carrot Man
action figure. Way too scary!