I have never really been a big fan of Andy Warhol. I always thought that he was kind of a lame one-joke wonder. Calling a painting of a Campbell's soup can "art" is funny the first time around, but it gets tired pretty quick. I never really learned much about the man until a friend of mine insisted I read the book
"Edie"
by Jean Stein and George Plimpton. It was a fairly thick hardback, so I was surprised at how quickly I finished it.
It turned out to be one of those books that you can't stop reading. It was fascinating, not only the story but the way that the book was laid out. I learned more about Edie Sedgwick and Andy Warhol than I ever thought that I would want to know.
By the end of the book, you wish there could be some sort of happy ending. It's a very sad and lonely book. There are no uplifting moments or philosophical events that strengthen or embolden the character. It is like watching the Titanic slowly sink into the sunset. There is nothing that can be done about it.
It is a story of a poor little rich girl who got lost in the seedy wonderland of Andy Warhol's Factory in the 60's. The book is about Edie's rise to fame and subsequent downfall into obscurity. I find the story of Edie Sedgwick far more interesting than any of the hype about Andy Warhol.
So many books are about men succeeding against all odds against a seemingly endless sea of troubles, or sometimes you even find books about a woman succeeding against all odds against a seemingly endless sea of troubles. This is a book about an endless sea of troubles and the woman who becomes entirely consumed by them.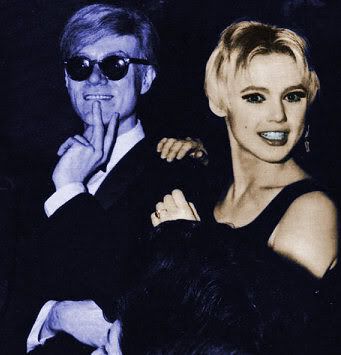 I found the story so interesting that I even sat through a videotape of Sedgwick's semi-autobiographical film,
"Ciao! Manhattan".
The film is a cinematic train wreck, but it does capture the complete deterioration of Sedgwick's life.
A recent film came out called,
"Factory Girl"
with Sienna Miller as Edie Sedgwick and Guy Pearce as Andy Warhol. I expected the film to be pretty awful, but was delightfully surprised at how well the film played out.
Part of Sedgwick's charm was her energetic personality and her million-dollar smile. I think that Miller captured that part of the role very well. I was surprised at how much she looked like Sedgwick, and acted in the same quirky fashion as Sedgwick throughout the film effortlessly. Guy Pearce does quite well as Andy Warhol, but I don't think that it is a very difficult role to play. David Bowie played Warhol in a 1996 film
"Basquiat"
and said that the wig was 50% of the role.
The film might seem disjointed to someone that is unfamiliar with the story, but I really enjoyed watching it. That said, let me warn you,
Rotten Tomatoes
gave it an average rating of 4.8/10, saying
"Superficial "Factory Girl" fails to tell a coherent story."
I would have to agree, it did fail to tell a coherent story, but if you have read Stein's book
"Edie",
you would know that there never really was a coherent story to tell in the first place. It's not a story with a clear beginning, middle and end. It is just the story of a young girl whose life went impossibly sour.
I think that if you watch the film, there is probably a good chance that will actually dislike the film. I fear that you may only enjoy the film if you already know and have an interest in the story.