OK, This is how delirious I am from having to view the internet at 56Kbps because my internet and cable are still out. I am actually reading AOL headlines. It takes so long just to leave a comment, much less look up a blog or website that I have succumbed to the rather mundane and wretched pastime of reading AOL headlines. I can't help myself! they are like slice of chocolate cake - I can't eat just one!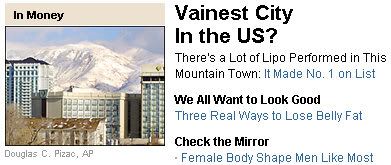 So the message of this headline is that it is bad to be vain, and then the subsequent headlines tell you to lose weight and live up to a male ideal of physical beauty. Maybe the real message is that is OK to be vain because "just look at what is going on in this ungodly town." Here is the teaser to the article:
"Pride is supposed to be a deadly sin. When it comes to their looks, however, fewer Americans are seeing it that way. That's because the advent of safe and affordable plastic surgery has persuaded even the most fearful and cash-strapped patients to go under the knife."
AOL
Oh my god! Where is this foul den of iniquity? This vacuum of virtue? This paltry paragon of petty plastic surgery? Los Angelos? New York? Hollywood?
"
No. 1: Salt Lake City!
It's surprising but true: There are at least 45 plastic surgeons practicing in Salt Lake City, or six per 100,000 people. This high number could be attributed to the University of Utah's School of Medicine, which offers residencies in plastic and reconstructive surgery."
AOL
OK, that was actually pretty boring. RomneyLand nips and tucks. Maybe they just want to look good for the Rapture. They also list America's Most Obese Cities, America's Greediest Cities, and America's Most Murderous Cities. A virtual reality road map to the ten deadly sins that you can scoff at in the comfort of your own dial up connection.
What your 'girl' secretly wants"? Not only is the language in questionable taste and the picture of a woman without a head kind of demeaning, but they are also suggesting that men ('guys') should second guess their wives on their choice of a Christmas present. "Really dear, this is what you secretly want! AOL told me that this is what you really, really want!" (Maybe what she secretly wants is freakin' divorce.)

The other headlines do raise a few questions, such as how intelligent does a bra have to be to be considered 'smart'? And is an article about how to make deviled eggs really appropriate for this venue? I think that they were trying to sneak in the word 'scrumptious' for some added subconscious effect.
This is a perfect AOL headline cluster. They have a pop culture reference, the managed to insert the word "sexy," and they can tie in the picture of a hole in the wall to an article about a Black Hole. Subtle! That's what I call journalism.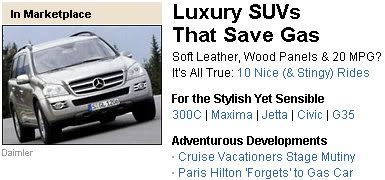 This is fun. Since when does 20 miles per gallon equal good gas milage? But on AOL, anything is possible! It's Stylish yet sensible! Paris Hilton serves as a pop culture reference, but... what's this? A mutiny onboard a cruise ship? This has gotta be good!
Note the transition from the title of the initial link, "Cruise Vacationers Stage Mutiny" promising the story of actual mutiny to to the title of the actual article, "Unhappy with your cruise? Stage a mutiny!" And then when you read the article you find that it is really about how lucky the unhappy passengers should have felt that they received a $250 on-board credit to spend and 50% off a future cruise after being screwed by the company. It is really an article about how to be a complacent customer. It is an article about the opposite of mutiny.