I am turning off anonymous comments on this blog for awhile because I keep getting these strange comments. Normally I just delete annoying comments, but these comments make IE go kind of haywire. In IE the comments look like little squares, representing characters from a
charset
that I don't have installed my hard drive.

In Firefox the unreadable characters look like question marks. I was curious as to who was making these annoying comments, so I looked at the source code, and this is what it looked like:
It's just a series of links to a Chinese website. So I figured that I would take a look at the website, and see what all the fuss was about. I expected to hit a wall of spyware, but didn't see any obvious sign of any. The site just looks like bunch of rather boring looking links.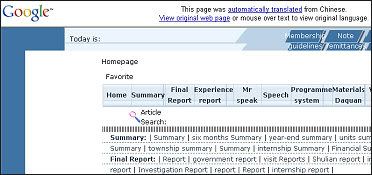 (Click to enlarge.)
At this point I pretty much lost interest, but then I noticed an interesting bit at the bottom...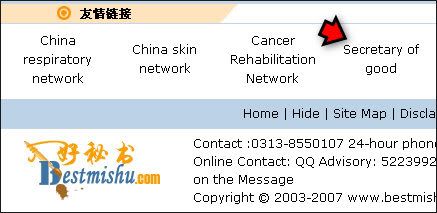 The website is apparently partnered in some way with the "China Respiratory Network", the "China Skin Network", and the "Cancer Rehabilitation Network". It would seem that now that China has all of the "big kid" problems associated with pollution, they have also inherited some of the "big kid" diseases that come with it. It's not really very funny I guess, but I also loved what must have been a mistranslation of the title of a government official - The "Secretary of Good".