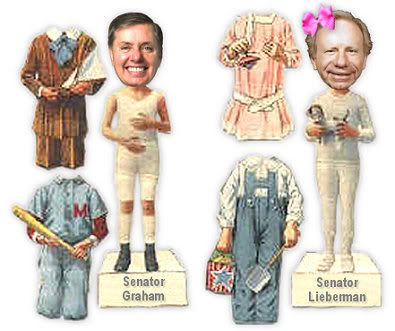 In a recent interview, Senator Lindsey Graham called Senator Joe Lieberman a "national treasure!" (A national treasure? I say let's bury him!)

GRAHAM:
Senator Lieberman, I think, is a national treasure
, because no matter how you feel about his politics, he was willing to risk everything, politically, for a cause he believed in. But to see the interaction between these two guys and world leaders was something special. [...]
I think John McCain will be a reassuring presence to the world. … It really was a smile on people's faces, knowing that if this guy got to be president, I think we could do business with him. … I think he's a reassuring presence. Doesn't mean that they prefer John over Obama or Senator Clinton, but there's a level of comfort there. [...]
Q:
But some probably do prefer him, don't they?
GRAHAM:
Oh, I would think, but no one told us. No one had a McCain sticker on their desk.
Think Progress