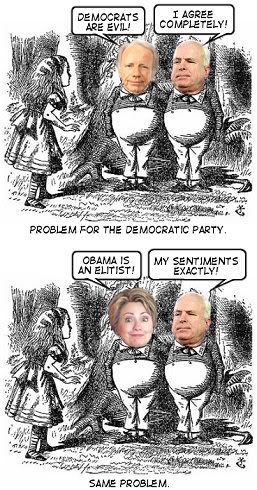 Democratic presidential candidate Barack Obama came under fire on Friday for saying small-town Pennsylvania residents were "bitter" and "cling to guns or religion," in comments his rivals said showed an elitist view of the middle class.
Obama's Democratic rival, Hillary Clinton, and presumptive Republican presidential nominee John McCain both pounced on the comments Obama made last weekend at a fundraiser in San Francisco.
Video of the fundraiser, which was closed to the press, surfaced as Obama was campaigning in Indiana, trying to highlight issues of concern to working-class voters, such as job losses and rising mortgage foreclosures. [...]
Reuters
America's tired of the distortion and game-playing by the right wing noise machine, and its pretty sad the failing Clinton campaign felt they needed to jump on this (perhaps it had something to do with the coverage of President Clinton bringing back the phony Bosnia story).
One wonders where all this media concern about elitism was when John McCain was raising millions of dollars in the home of a British Lord.
Oh, that's right. He's a Republican. And he's THE John McCain.
NBC's Chris Matthews: "The press loves McCain. We're his base."
[...]
Oliver Willis
Oliver Willis also has Obama's quote in context.