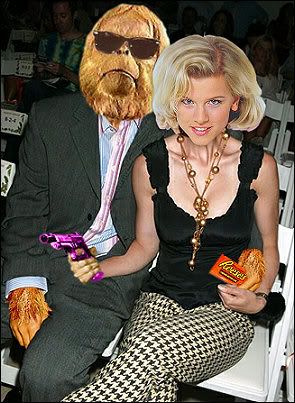 After discussing the possibility of a
Necco confectionery conflict with my running mate, Gemaine Gregarious,
I have decided that the best way to deal with this recent military escalation is through arbitration and diplomacy. Unlike some of our opponents, the Gregarious/Zaius ticket believes that war should always be a last resort.
We should not view the recent Necco gunboat incident in the Gulf of Tonkin as an act of overt aggression. The unfortunate incident took place in international waters, and there seems to be some question as to the identity of the radio personality that taunted our naval personnel.
I would like to assuage the false fears or "domino theory" of an expanding Necco empire. The details of the recent escalation are as follows:
Monday, January 21, 2008
Aunt Dahlia:
A Day Which Will Live in Infamy
January 22nd, 2008
Robert Rouse:
The Unseen War
Wednesday, January 23, 2008
Dguzman:
The War on Necco
Dr. Monkerstein:
Aunt Dahlia, I'm with you
FranIAm:
Lazy Blogger Plus - OCICBW and Padre Mickey Edition
The Free State of Neccoland:
Welcome to the Free State of Neccoland
Dizzy Dayz:
Chocoholics Beware: We Are Declaring War On You!
My running mate reminded me that
Necco wafers helped win World War II,
and have also made a valuable contribution to this country as a nearly indestructible building material.
Via Roofer's Quarterly
Ms. Gregarious also reminded me that the mining communities of
Neccoland
yield not only Necco Wafers, but also those little candy hearts with cute little romantics sayings printed on them.
Via Candy Addict
I must admit that I have always been partial to these romantic candies. I don't actually eat them, but I do find their sentimental messages are very endearing. It seems that in addition to their existing messages, this year Necco is adding a whole new batch of heartfelt communiqués:
Necco candy has also inspired a line of perfume this year: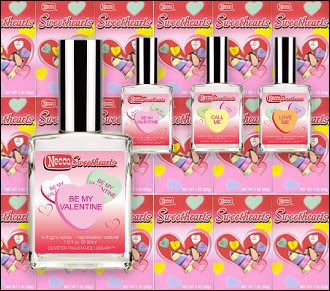 I was initially incredulous, but I found myself very intrigued by the fact that the scent contains an ingredient that I thought could only be found in the words of a Motown back up singer - I am of course referring to
"ylang ylang":
I am Sure that any Necco candy scent will smell as good as Necco wafers taste!
Recent scientific taste tests of the Necco products indicate that the flavors of Necco Wafers are distinctly, ahem,
different
enough from the flavors of regular American candy as to not cause undue competition in the overall confectionery market.
Perhaps of far greater concern to the American public is the recent sale of the Necco candy company to a shady division of the military industrial complex:
With Valentine's Day around the corner, now is not the time to quibble about candy. Now is the time to save an important American institution - the Necco candy heart. I have contacted
Jon the Intergalactic Gladiator
to look into the matter more thoroughly.