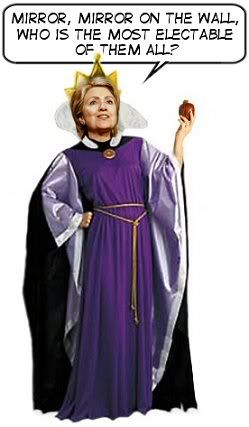 What is exactly is this 'popular vote' that the Clinton's speak of? It turns out that we are taking about
fractions of one percent.
To see exactly how the numbers play out, check out
this link.
Hillary Clinton's argument to the American people and the superdelegates is based on these numbers. Admittedly, Clinton has run a strong campaign, but it is madness to argue that she is more 'electable' and the rules of the Democratic party should be overthrown and delegate count doesn't matter because the numbers can skewed one way or another to prove that she gains an advantage in
fractions of one percent.

Hillary wins the popular vote (by fractions of one percent) only if she gets her votes Michigan, and Obama gets none. The argument being that he took his name off the ballot, so he should not get any votes - like those are the rules. (The whole election was against the rules! Seemingly, rules only count when they are to Clinton's advantage.) This premise especially ridiculous if you consider that 41% of the Michigan voters chose to vote against her when given the opportunity to vote for her and no one else.
And if we're really interested in that "popular vote" metric, here's a fact that should interest Democrats:
More people have voted against Sen. Clinton than have voted against any primary candidate in American history.
Take Michigan: Even though it was an "election" worthy of Joseph Stalin or Saddam Hussein, with no major opponent on the ballot (because the others honored an agreement she retroactively broke), 41% of voters chose
nobody
when given the opportunity to vote only for Sen. Clinton.
Here's what would have happened in Michigan if Hillary Clinton had not been the only leading candidate on the ballot : Based on exit polls taken at the time, she would have received 46% of the vote to 35% for Obama and 12% for John Edwards. That means that, with Edwards' endorsement, Obama would now be getting more Michigan delegates -- and more of its "popular votes" -- than Clinton. But because he honored the agreement and she didn't, she now wants a one-sided agreement that rewards her behavior. smirkingchimp.com
If only popular votes are used Obama leads by almost 25,000. Since the caucus states of Washington, Iowa, Nevada, and Maine do not keep actual vote totals their numbers can only be estimated. Adding in those estimates Obama's lead increases to nearly 135,000. The only way Hillary leads is if one assumes that Obama would not have received one single vote in Michigan.
chron.com,
via
Real Clear Politics
Obama leads in popular votes, delegates and states won in the race against Clinton for the Democratic nomination and the right to face Republican candidate John McCain in the November presidential election.
FACTBOX-Reuters 06/01/08