Now that we have been informed by the McCain campaign that we can expect some more of those delicious
Terrorist Alert Milkshakes
that we have all grown to know and love during each election cycle, perhaps now is a good time to review some of the culinary masterpieces they were served during the Bush administration. I have
this swell video put together by Keith Olbermann
that explains in detail those past election-time frappe treats that we have all enjoyed as a snack or dessert. Guaranteed to chase the economic blues away and sugarcoat those drooping poll results!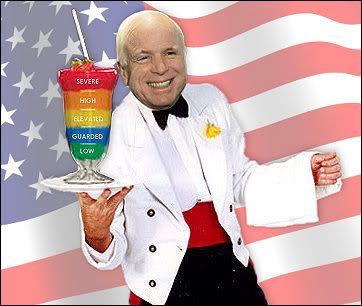 it's an election year! This is the perfect time to sit back and relax with a cool, refreshing Terrorist Alert Milkshake. Here is the recipe in case you have forgotten. (It will also be reprinted soon on Cindy McCain's website!)
Recipe for a Terrorist Alert Milkshake

Ingredients:

1 carton (or more) of Insane Despot Ice Cream
1 disenfranchised population
The Mainstream Media
Plenty of horse manure
10 oz. box of xenophobia, partially thawed

Directions:

Using the Insane Despot Ice Cream as a base, mix the horse manure, the media and the population into a blender until the voter's overactive imaginations are at a fever pitch and the economy is ridiculously overextended. Make sure that the people's resolve dissolves completely and the political pundits are foamy, frothy and drooling. Let stand until fear and intimidation start to congeal. Garnish with a fresh strawberry!