No time for blogging today! Germaine Gregarious and I have discovered the secret location of the Mobile MainStream Media Misrepresentation Facilities! We are on a secret mission to use some of our "refined interrogation techniques" on the makers of the WMD's at the MSM's MMSMMF, PDQ!
(Who knew that television news could be so dangerous! I almost slipped and broke my neck on one of Anderson Cooper's oily obfuscations.)
In the meantime you can watch this swell video from last year of the exchange that took place on the floor of the House of Representatives between
Speaker Nancy Pelosi and Vice President Dick Cheney.
(The clip is from
The Gavel
.) They covered it briefly on CNN, and then no one has reported on it since.
(Jeepers! Speaker Pelosi certainly has an acute understanding of advanced political theory!)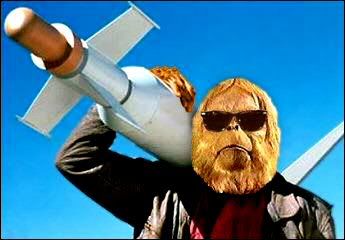 I brought my 'can opener'. We're gonna have a blast!