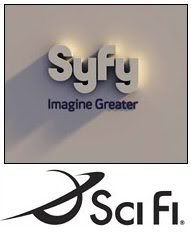 This is ridiculous.
The Sci Fi Channel is changing it's name to the "SyFy Channel". A stupid name to go with it's
stupid giant snake and giant insect programming
. What they really need is some executives that
actually like
science fiction, and understands the depth of the subject matter.
They have had a few good programs, like
Tinman,
and their versions of Dune and Children of Dune. Stargate SG-1 and Stargate Atlantis were and are indeed valient efforts, but Estate of Panic, Ghost Hunters International and Scare Tactics and reruns of Lost are just an affront to your higher sensibilities. I never could get into Battlestar Galactica and it's quest for a Neo-Mormonist identity, but it is very popular.
At least they have reruns of The Twilight Zone, Star Trek: Enterprise and The X-files. It's great that they ran reruns of Joan of Arcadia, but that's not really science fiction, is it? And it's nice to see Reruns of the Outer Limits remake, but I would like to see the original program as well.
If they are trying to save money on their budget by only picking or producing really stupid giant reptile and giant insect movies, I would much rather see some cheesy science fiction movies from the 50s and 60s. And if they are going to run horror movies, why don't they recreate the Bob Wilkin's Creature Features program? That would at least be interesting.
You can watch reruns of the vast wasteland of
Sci Fi Channel programming here.