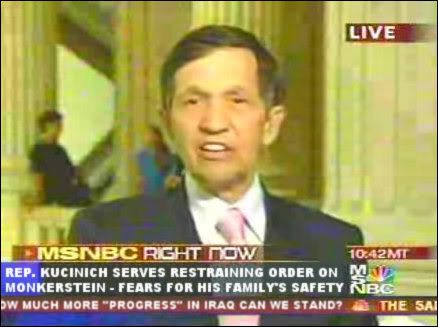 In a statement issued from his congressional office yesterday, Rep. Dennis Kucinich (D-OH) stated that he has filed for a restraining order against independent presidential candidate Dr. Monkey Von Monkerstein.
"I have never met or spoken with this Monkerstein fellow, despite what his campaign manager has been saying." Kucinich said. "The constant badgering and harassment by Dr. Monkerstein and his staff must stop."
The Monkerstein campaign had previously asserted that Kucinich had agreed to serve as his running mate in his upcoming bid for the for presidency. Monkerstein now states that
Kucinich has dropped out of the race
because "Rep. Kucinich told me that after much soul searching that he did not want to put his lovely wife through more campaigning if he does not get the nomination."
"That's absurd! I have never met the monkey!" Kucinich said. "And who in their right mind would declare a running mate this early in the election cycle? That is just crazy talk!"
The Monkerstein campaign was unavailable for comment at the time of this press release.
MSNBC