A popular blogger pastime is checking out your stats and seeing what search terms people are using to find your blog.
DCup wrote a really funny post
about these the other day. Generally the information that can be gleaned from this futile exercise is of limited or no value, except for the humor that can be found within the search strings of some of the the warped minds of the people using Google.
I have read some really strange ones, but I think the one that had the most emotional impact on me was this one:

Daria porn!
Oh, my god what a
Sick, Sad World
that we live in! I was mortified. Not only is Daria is underage, but she is probably the girl that would be voted most likely to
never
become involved with the porno industry in her lifetime. Not because she is a prude - because she is just not interested in cultural obsessions about self image, fashion or sexual attractiveness. Daria is a loner. A rebel.
Her sister Quinn might get involved in porn,
maybe.
I could see Quinn hamming it up for the camera in one of the "Girls Gone Wild" videos after a few too many Banana Daiquiris. Quinn is just naturally outgoing and flirtatious.
And if you are going to look up porn from the TV show Daria, the real siren of the show was Jane, in my humble opinion. Everybody knows that art chicks are the most attractive women in the whole world!
So anyway, after my initial disgust and confusion, I wondered if there really was any Daria porn out there in the internet, and lo and behold the internet provide a wealth of it. Well, It's not really porn, but it is a bit racy. Here are some of the links that I found of Daria fan art: [
1
|
2
|
3
|
4
|
5
]
Some of the fan art is really great. I got all of these at the Daria fan site
Sick, Sad World
. I quite liked
Scooby-Doo Daria
and
James Bond Daria
, but I found one picture that was far more frightening to think of than the idea of Daria getting involved with the porno industry. It was
this picture.
It's a picture of Daria trapped in a dead-end job at a diner in Lawndale.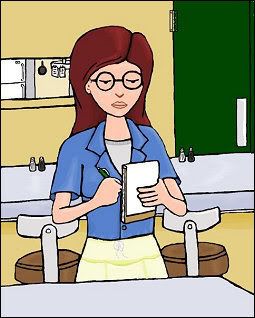 You can take the
"What Daria Character are You?" quiz.
I was graded as
Trent
,
"Musical and Insightful, if only you could wake up on time."
Follow these links if you are unfamiliar with the two television programs
Daria
and
Sick, Sad World.