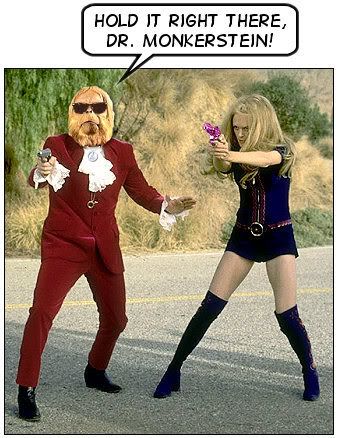 Germaine Gregarious and Zaius take on Monkerstein's evil plot!

Good news! I am presently in political negotiations with the incredibly talented and intelligent
Germaine Gregarious
of the
The Nefarious Lair of LGPPP, Inc. (Lesbian Gangs Packing Pink Pistols)
.
I must say that I am quite taken with the remarkable
Germaine Gregarious
and her gang. As you can see, we share a
similar world view
, and we would both like to see the world safe from the scourge of despotic activity that is brewing in the White House, as well as in the Blogosphere.
I find the fact that Ms. Gregarious and her gang are the sworn enemies of BIll O'Reilly most compelling. Any enemy of
"Bill'o"
is a friend of mine! It is quite fortuitous that we have met, as we can now act as a team against those evil forces that would stand against us. Undesirable elements that lurk in the darkest corner of the blogosphere, beware!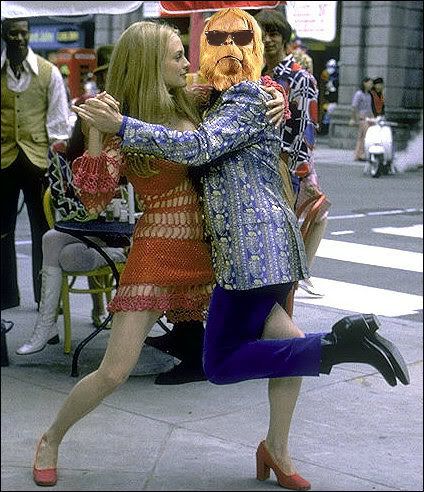 Germaine Gregarious has swept me off of my feet!
Meanwhile, the ongoing struggle against
Dr. Monkerstein
and his
Fearsome Felonious Frog
is growing more desperate by the moment. Their attempts to foul my reputation by means of trickery and foul play is merely the first stitch in their immense tapestry of criminal activity. I am being repeatedly sullied and slandered by these odious, abhorrent, and unequivocally detestable scallywags. Is there no end to their
phony, fatuous flim-flam!?!?

The dark and deadly duo are trying to besmirch the Constitution of the United States, the very heart of our fair democracy! If they get their way, they would like to abolish the first amendment! His colleague and campaign manager the
Fearsome Felonious Frog
has already stated quite clearly that if elected, the Monkerstein administration will
"brook no discussion with those who disagree with the Monkerstein!"
Just look at his
campaign literature
Such an open disregard for the open dialogue of the Democratic process is beneath contempt. It looks like undesirable elements have once again infiltrated the American political process. Something must be done!
What is perhaps even more frightening are the
many documented cases of voter intimidation by the Monkerstein campaign
.
Monkerstein's Power Pagoda Playbook
promotes all manner of thuggery and hooliganism among it's members, and will stop at nothing to reach it's evil ends.
In another example of the free speech that Monkerstein would like to squelch, the vitriolic, vituperative, and vindictive villains state that the public is not allowed to use the phrase
"Power Pagoda"
because he says it is not
"politically correct."
This is yet another attempt by the Monkerstein campaign to stifle the
freedom of speech
and the
freedom of expression
in this fine land of ours.

The most galling bit of this dastardly deviltry is that the word Pagoda means a
kind of building
, not a
kind of human
, and thus cannot be offended by the words of man. This sort of error is typical of his campaign manager, the
Fearsome Felonious Frog
. The have already been seen trying to poll various pagoda's in an attempt to curry favor among the Pagoda crowd, only to find that
buildings can't vote.
Ha! Hoisted by their own "Pagoda" pitard!
It is fortuitous that the Monkertein campaign's neoconservative Power Pagoda Playbook has been exposed so early in the election process, so that the voters can learn early of his nefarious plan to rule the country with an iron paw. after so many years under the thumb of the evil Dick Cheney, this country can ill afford to have another foul dictator like
Dr. Monkerstein
and his
Fearsome Felonious Frog
ruin this fine land with their malfeasant methods and vile, despotic ways.
This is
Dr. Zaius
signing off for now, but
Germaine Gregarious
and I shall return soon to update you on the latest political news and most hackneyed pop culture petri dishes, as well as the brewing, festering scandal that is the
Monkerstein campaign to destroy America.
Monkerstein and his Frog shall be undone!