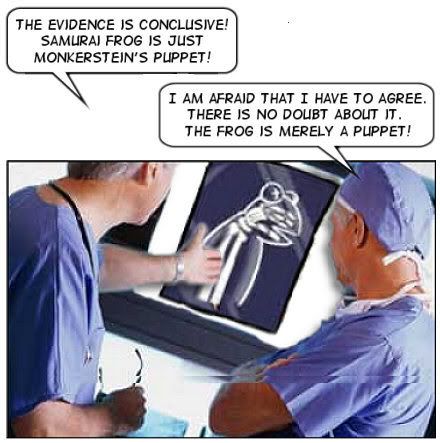 After an initial investigation by Homeland Security, conclusive evidence has come forward that proves beyond a shadow of a doubt that
Samurai Frog
is not able to think for himself, and is merely a puppet of the
Monkerstein Power Pagoda.
"I have never seen anything like this is modern American politics, with the exception of Dick Cheney's svengali-like control of George Bush," Said practicing neurosurgeon and chief medical correspondent for the health and medicine at CNN Dr. Sanjay Gupta. "It is not uncommon to see this sort of thing in other environments though, such as children's programming."

Through a series of extensive tests performed at Walter Reed hospital, it has been determined that
Samurai Frog
is in fact being manipulated by
Dr. Monkey Von Monkerstein
by way of direct connection through his puppet body. Details of this process are a closely guarded secret of the Henson Corporation.
By all general appearances
Samurai Frog
seems to be a living being or an anthropomorphic animal with a very wide mouth and large protruding eyes. This is not the case, as scientists have determined that
Samurai Frog
is in fact a puppet. He has been been molded out of foam rubber, and then has then been covered with fleece. His eyes are made of ping-pong balls.
The Monkerstein campaign was unavailable for comment at the time of this press release.
CNN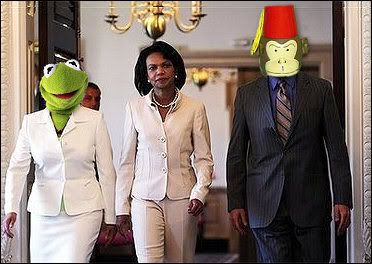 Recent photo of Dr. Monkerstein and the Frog at the White House

Sandra Lou, official spokesperson for the Zaius/Gregarious campaign:
En France nous aimons manger les jambes de grenouille pour le dîner ! Ils sont délicieux.