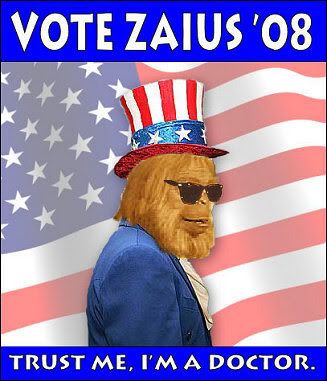 Dr. Zauis here, with you election update for today!
The
The Nefarious Lair of the LGPPP, Inc.
have reported that
Germaine Gregarious is missing!
And her disappearance has taken place under very suspicious circumstances...
The only evidence found at the scene of the crime was a fez and a tutu! Damn you, Monkerstein, damn you! and your little frog too!
After my fembots and I had a brief meeting with the LGPPP, Inc. and their lesbots in the Rumpus Room, we have leapt into action! (Already the incidental music has begun to swell...)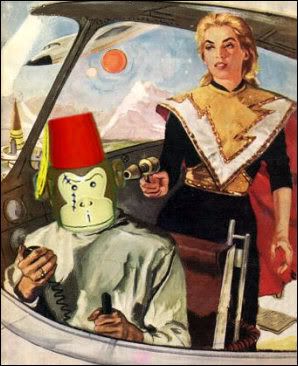 I have little doubt that he will regret those words.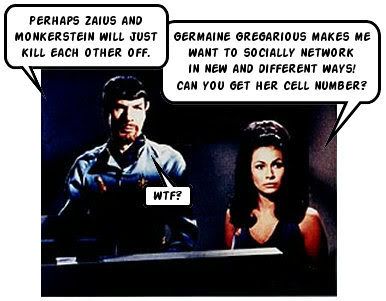 Evil Spock
appears to be fraught with indecision...
We have a new candidate!
Dr. Smith
from the TV show
"Lost in Space"
has thrown his hat into the race! You can find Dr. Smith's Candidacy Announcement at this link,
"Never Fear, Smith is Here!"
I am actually torn about Dr. Smith entering the race. On the one hand his honesty, bravery and fidelity has proven to be a great asset to the Robinson family time and again. On the other hand...
...He has access to an awesome robot! Ack!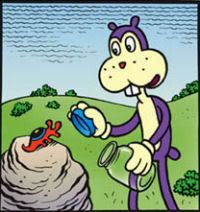 Splotchy, The Prototypical Simian Swing Voter
has been good enough to point out an error on the part of yours truly, and I hereby humbly apologize for this grave mistake on my part. A thousand apologies, sir! Please note your inclusion to my blogroll.
It would seem that
Two Minutes In The Box
is torn between two candidates as well. You are wise to weigh all of the options before deciding, sir! I trust that you will make the correct decision. He also has an
awesome kitty!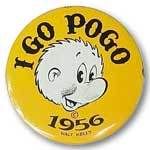 There was a time when American politics was much kinder and far less complicated as the mudslinging and back stabbing of today. At least there are no Sleestaks in the race...