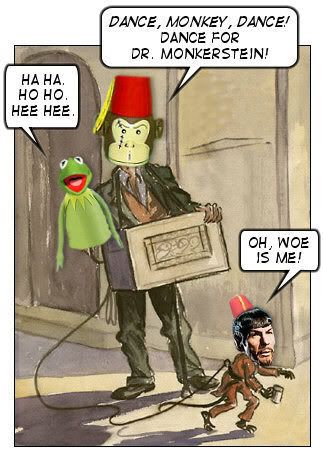 The "Straight Talk Express" of Evil Spock's presidential run for the White House in 2012 has been permanantly derailed. he has recently
thrown in his hat with the wrong crowd,
and is now shilling for the unworthy attentions and false glory of the crazed delusions of the Monkerstein campaign!
I have tried to be a friend to Evil Spock, but he returned that friendship with scorn by calling me his
"frenemy."
He has pushed aside my idealistic hopes for his future and my altruistic concerns for his welfare, and has instead placed all of his presidential eggs in one basket -
a handbasket.
Well, I tell you, boys and girls, I think you can guess exactly where he is going in that handbasket!
Now there are those of you that might suggest that I am the victim in this instance, but I say nay, no sir! It not I that is the injured party in this case, but the poor, deluded Evil Spock. He has been hoodwinked! His career is over, his hopes and plans for a presidential run in 2012 are a fleeting, tattered dream that shall never be realized because he has fallen in with a bad crowd - Namely the Evil Dr. Monkenstein and his little Frog puppet!