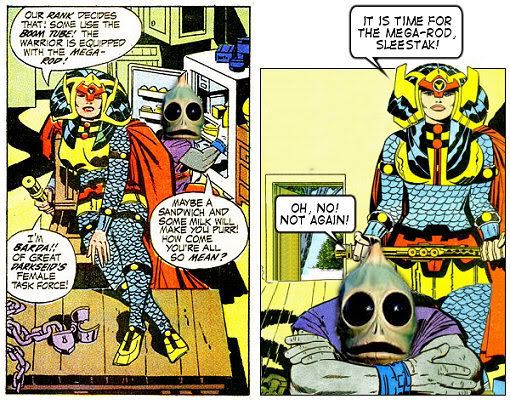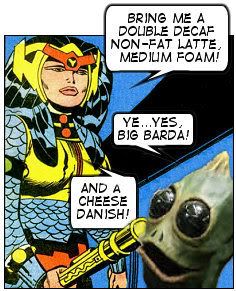 I am growing increasingly concerned about one of the new candidates,
Sleestak
of
Lady, That's My Skull.
On his campaign website he explicitly is asking the voters to
worship a device called a Mega-Rod
that is owned by a woman by the name of
Big Barda
. Who is this
Barda
, and what control does she have over
Sleestack
? And what is a
Mega-Rod
, and why does
Sleestak
have an altar to it? I think that the voters have right to know!
It is entirely possible that this device is some kind of weapon, and Sleestak may have plans to use it to sway the upcoming election in 2008 in some way.
Michael Chertoff has already warned us that he has it on good authority that a significant
rumbly in his tumbly
means that some kind of terrorist attack is about to take place this summer. Could Big Barda and this Mega-Rod somehow be involved?
Dr. Smith has already pointed out that Slestak is an avid practitioner of some
unusual religious practices.
Now, I think that it is only fair that you read what Sleestak himself has to say about his award-winning
Garden of Hayley Mills Awesomeness,
and to not be overly swayed by what one hears from a third party.
I have been known to attend Sunday services to worship of the Divine Ms. Mills myself on occasion. There is nothing strange about that! Still, but I am growing increasing concerned about this other matter. I am all for freedom of religion, but why does
Sleestak
worship at an altar to a device called a
Mega-Rod?
Who is
Big Barda?
And why is
Sleestak
so secretive about the whole subject? Do any of the voters have any ideas about what this
Mega-Rod
is for?