Dec. 4: Best Worst person in the World
EVER!
"CNN's Lou Dobbs threatens illegal immigrants on his show during the week but on the weekends he pays these people to clean up after his 'show jumping' daughters' horses."
Countdown With Keith Olbermann.
(Sorry, I could not find a direct link, but it is Java linked on the
Countdown
page for now. Maybe
Crooks and Liars
will put it up later.)
UPDATE:
Crooks and Liars now has the video!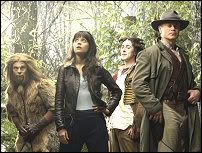 Tinman
on the Sci-Fi Channel. Any show with a creepy brain being kept artificially alive in a jar can't be all bad. Repeat from the begining Sunday at 5. Yay!
Becket
(1964). I had seen it before. Just about any Peter O'toole film can be watched over and over again. Another great movie was
A Man for All Seasons
(1966).