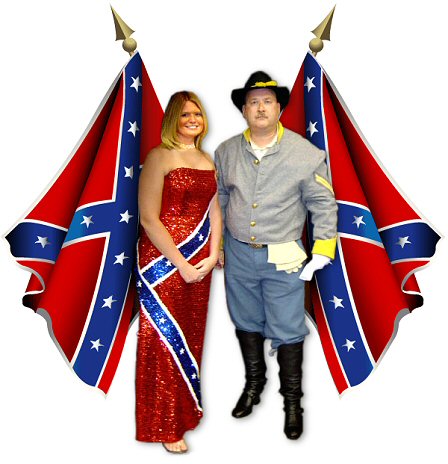 The Sons of Confederate Veterans have flown a 30-foot by 50-foot Confederate flag on the site of a memorial park in Eureka Springs, Florida. (Conveniently located just off the Martin Luther King Jr. Boulevard exit.) Its presence has sparked headlines around the country and fostered a charged debate about what the symbol really means: Southern pride, property rights, free speech, outright racism, or merely the soothing pop culture influence of FOX News.
Critics of the giant Confederate flag point out that in the past the flag has been a symbol of the Ku Klux Klan and other racist hate groups. According to the Southern Poverty Law Center, more than 500 extremist groups use the Southern Cross as one of their symbols.
Marion Lambert of Tampa is quick to defend the giant Confederate flag, however:
They can either accept [the flag] as a hate-filled symbol or a heritage symbol. [...] This can be — if they want to be — a tourist attraction for Hillsborough County and being part of Dixie.

I don't care if everybody here is from New Jersey, from Pennsylvania, from places north. They write things like, well, I've been living here for 25 years, like a blog comment I read the other day, I've been living here for 25 years, the lady said, and I always thought the South started at the Georgia line. Well, low and behold, guess what, we're here.

The indigenous southern people are here and have not been recognized for 20 years and now we're dab-burn gonna be recognized and we're going to be embraced or there's gonna be the dickens to pay for it.

[...] The flag is going to be flown. As long as I have breath in my body and am able to function and articulate. And even if I'm gone, it doesn't make a difference, the flag is going up. The Southern community is just enamored with this project.


The Sons of Confederate Veterans, A largely white organization, denies any racist bent in their organization. Though the soldiers that fought for the confederates were almost exclusively white, the organization has vowed that if they can find any descendents of African American soldiers that fought for the confederates in the Civil War that wish to join the Sons of Confederate Veterans, then the organization will be more than glad to let them serve drinks and clean up after party meetings.