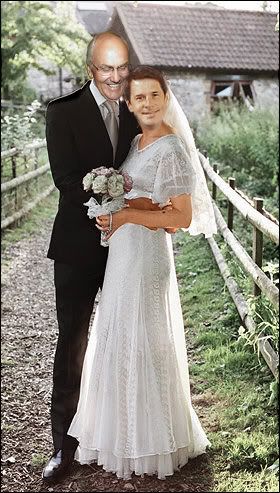 Two Republican Senators, Larry Craig (R-ID) and David Vitter (R-LA) have teamed up to co-sponsor the
Marriage Protection Amendment
in order to save the country from it's own sinful gayness. If passed, the bill would amend the Constitution to declare that marriage "shall consist only of the union of a man and a woman."
It is only fitting that dynamic duo of far-right Republicans have taken it upon themselves to act as defenders of the sanctity of marriage, as both Senators have been implicated in extramarital sexual activity in the past. Sen. Vitter hired prostitutes to have sex with him while he wore diapers, and Sen. Craig as arrested for soliciting gay sex an airport men's room. No wait, that's not right... Sen. Craig
pled guilty
and
was convicted
for soliciting gay sex an airport men's room.
In light of this recent development, let's not forget this important piece of the legislation that Senator David
"Hurricane_Katrina-isn't-happening"
Vitter felt fit to thrust upon the American public last year. Sen. Vitter introduced an amendment to a lobbying reform bill that would have required grassroots causes, even bloggers, to register and report quarterly to Congress, the same as the big K Street lobbyists.
"Section 220 would amend existing lobbying reporting law by creating the most expansive intrusion on First Amendment rights ever." For the first time in history, critics of Congress will need to register and report with Congress itself."
[
2,
3,
4,
5,
6,
7,
8
] The bill would have allowed the rounding up and imprisoning of non-registered political writers.
Non-registered political bloggers who criticized the government would have faced prison if Sen. Vitter's amendment had been made law.
Just a quick reminder: the Republican National Convention will be held only seven miles west of the airport restroom that Sen. Larry Craig's 'wide stance' was arrested in. I'm guessing that the GOP's convention-goers will be kind of jittery at the airport bathroom as the Republican congress flies in to the convention. (I think it's gonna be touch and go!)