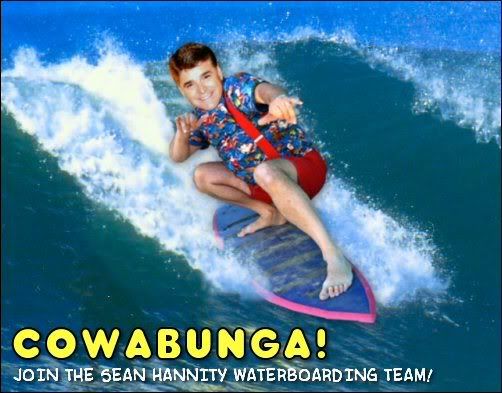 Do you want to help Sean Hannity keep his promise to get waterboarded for charity? Then join the Sean Hannity Waterboarding Team!
(Vote as often as you like!)
If you want to invite other to join the team, you can add this nifty widget to your blog:
<CENTER><SCRIPT TYPE="text/javascript" LANGUAGE="javascript" CHARSET="utf-8" SRC="http://static.polldaddy.com/p/1624147.js"></SCRIPT><NOSCRIPT>
<A HREF="http://answers.polldaddy.com/poll/1624147/">Do you want to help Sean Hannity keep his promise to get waterboarded for charity?</A><SPAN STYLE="font-size:9px;">(<A HREF="http://answers.polldaddy.com">opinion poll</A>)</SPAN></NOSCRIPT></CENTER>
Simply copy and paste this code into your blog thingie.
Or you can show your support with this sidebar item:

Cowabunga!