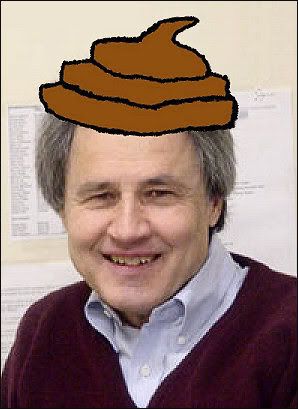 The winner of this week's coveted Doody-Head Award goes to Professor Michael Skube. He has recently written an opinion piece titled,
"Blogs: All the noise that fits".
He warns that, "Bloggers now are everywhere among us," and states that, "The blogosphere is the loudest corner of the Internet, noisy with disputation, manifesto-like postings and an unbecoming hatred of enemies real and imagined."
He is greatly dismayed that bloggers do their vile profession for no money, and laughs at the concept that some bloggers consider themselves "a new kind of 'citizen journalist' dedicated to broader democratization."
Skube tirelessly points out that journalists provide facts, while bloggers only provide opinions. (The irony of the fact that he said this in an
opinion piece
is not lost on this author.)
He does acknowledge that it was a blogger that first reported on the national disgrace that took place at Walter Reed Army Medical Center, but goes on to say that it was the Washington Post's painstaking reports that were truly important, and not what any blogger said.
Skube points out why journalists like himself are so much more relevant than petty bloggers by saying the following, "[...] the full scope of that story could not have been undertaken by a blogger or, for that matter, an Op-Ed columnist, whose interest is in expressing an opinion quickly and pungently. Such a story demanded time,
thorough fact-checking and verification
and, most of all, perseverance. It's not something one does as a hobby."
He goes out of his way to mention that the reporting done by the Washington Post about Walter Reed Army Medical Center has won a Pulitzer Prize. The only problem with this statement is that
the Post hasn't won a Pulitzer prize
for it's reporting on Walter Reed Army Medical Center. Clearly his
"thorough fact-checking and verification"
only applies to
other
journalists, and not himself.
One thing that I find particularly doody-headed about Skube is that he is a
Professor of communications
at ELON University, and yet he finds the unique and dynamic changes in the way we view communications that blogging has created in the last few years as some kind of threat to journalism, and yet has nothing else to say on the subject. (In the field of communications, blogging is about a whole lot more than just news.) This alone would qualify the professor as a doody-head award recipient in my opinion.
I first read about Michael Skube in a post by John Amato over at
Crooks and Liars
, who points out that the the Skubemeister bashes blogs that he now admits that he doesn't even read. Previous winners of the coveted Doody-Head Award were
Richard Schickel
and
Robert Novak
[
2
].