Can't find all of those pesky recipes? Need to organize your Star Wars bubblegum card collection? Sometimes there is just so much stuff you become overwhelmed. (Heck, I can't even find matching socks in the morning!) But just when you thought that you head was going to explode,
Mother Jones has compiled a comprehensive timeline of all of the lies told about the Iraq war
, putting them in all into an internet/Flash equivalant of a 3x5 card index file so you can relive every rich, creamy bite of these falsehoods in the comfort of your own home. What will they think of next? Thanks, Mother Jones!
"We are very concerned by the fact that people are exposing illegal acts
by the government to the general public!"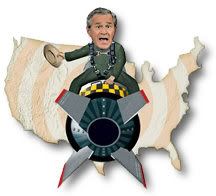 Lie by Lie: Chronicle of a War Foretold: August 1990 to March 2003